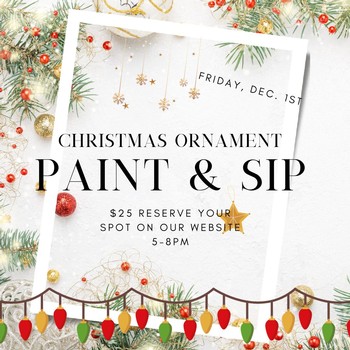 Paint and Sip
---
Celebrate Downtown Yakima's First Friday at Adelia Wine Cellars with a Paint and Sip Event. We will be partnering with @yakimakers to fire some beautiful ceramic ornaments.

What is the event:
Adelia Wine Cellars will be providing ceramic ornaments, low fire glazes and a glass of wine when you purchase a ticket on our web store ($25). Adelia Wine Cellars will be partnering with the Yakima Maker Space to fire the ceramic ornaments once you have finished.

When is the event:
The event will take place on Friday December 1st from 5-8pm. Ornaments will need to be fired in a kiln after painting (glazing) is finished. Expect to pickup your ornaments on Friday December 15th between 5-8pm

Where is the Event:
The event will take place in Adelia Wine Cellars at 18 S. 1st St. Yakima, WA 98901.

If you have any questions please reach out!
Based on your shopping cart here are some suggestions!